We are very excited to announce our partnership with Pons Paraclete with an amazing trip to Kenya summer 2016!!!.*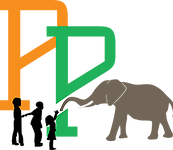 Pon Paraclete http://www.ponsparaclete.org/ is a non-profit organization that collaborates with wildlife organizations and educational institutions to bring together kids and animals. Using this interaction as a platform, they work with both sides to individually meet additional needs at that time. This could range from curriculum development in schools to consultations for zoos. To further increase their impact, Pons Paraclete seeks partners outside their field of expertise to collaborate on projects. At its core, they bring together animals and kids, but ultimately seek to have a broader long lasting impact. A once in a lifetime encounter is wonderful, though likely resulting in a short term emotionally driven change. Each of their projects has a dual impact, for the kids and wildlife organization. Still though, it's not enough. Ultimately this is why Pons Paraclete develops partnerships with-like minded organizations to have that wide ranging effect.
With a mutual connection in the animal world, the founder of Pons Paraclete contacted us in regards to helping bring veterinary care supplies to an elephant sanctuary in Kenya called The David Sheldrick Wildlife Trust and Orphange. In July 2016, Pons Paraclete will be traveling to Kenya's capital to work in the Mathare Valley slum. One district within the slum is known as Bondeni. Working with a local missions organization, Missions of Hope International (MOHI), Pons Paraclete is taking some very deserving children on a "safari" to the world famous Daphne Sheldrick Elephant Orphanage

http://www.sheldrickwildlifetrust.org/ to observe the elephants' taking their daily midday bath and milk feeding. We were eager to accept this offer and began busily gathering supplies to help the care givers at DSWT to can for the many animals at their orphanage. We were very excited and honored to be part of this great project. We have been following the DSWT for years and to finally be able to help them make a positive impact with the animal care is truly wonderful.
Thank you Pons Paraclete for allow us to be part of this amazing journey for the children of Bondeni!!!!